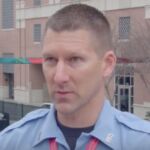 Patrick Hagan is a technical specialist for the Houston Fire Department who had an opportunity to try out a VR demo by HTX Labs featuring an active shooter critical response training scenario. This demo inspired him to start collaborating with HTX Labs to see how virtual reality could be used train new firefighters, but also create atypical training scenarios for teams of firefighters.
LISTEN TO THE VOICES OF VR PODCAST
I talked with Hagan at the Immersive Technology Conference in Houston Texas about some of the training needs of first responders, and how he envisions the role of augmented and reality technologies to help provide proper training so they're better prepared to help them go home at night to their families.
---
Support Voices of VR
Music: Fatality & Summer Trip