The impressively popular social VR game Rec Room recently received a 'Fancy Pants' update, adding more than 100 new items for players to customize their avatars. As detailed on the game's Steam news page, the update fixes a number of bugs, increases the level cap along with retuned XP rewards and level curves, and adds new community event features.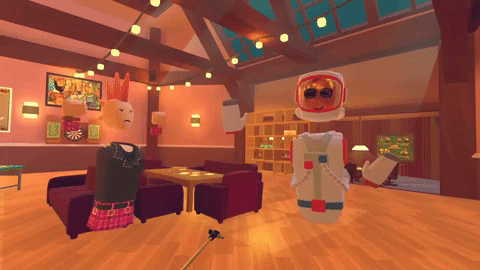 The new items should please anyone looking for a virtual makeover, with over 100 "dresses, shirts, hats, accessories, hairstyles, and gloves". The level cap has increased from 20 to 30, with "the coolest stuff is available at the higher levels," naturally.
Community event hosts are now marked with a crown icon, have the ability to kick players without a vote, and the host is "guaranteed a spot in their own event."
The bug fixes are listed below, including a few more added in a subsequent 'Fancy Pants' patch:
Fixed a bug where Share Camera would be tiny when you dropped it!
Fixed bug where @names were displaying incorrectly
Fixed a bug where friend import could fail during new user tutorial
Fixed a system issue that could cause a bunch of "weirdness" with activities (e.g., Paintball, Quest, etc.). So, hopefully there will be less weirdness!
Fixed "ice skating" bug – you can no longer abuse rotate to move through the world! Fun while it lasted…
Quest – fixed boss encounter in The Rise of JumboTron
Quest – can now get past lava room in Golden Trophy!
Quest – fixed a bunch of bugs with enemy spawning
Since developers Against Gravity received a major funding boost in February, updates have arrived thick and fast, adding new features, quests, maps, and fixes. A major update a few months back brought the game's second quest, Rise of the Jumbotron, a four person cooperative mini-campaign where players battle through challenging enemies to reach the end.
As for this recent character customisation update, it could present a money-making opportunity if players were given the choice to purchase rewards, but Rec Room admirably remains totally free to play.